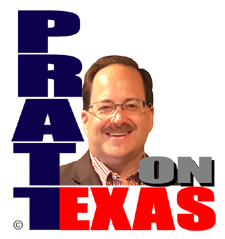 The news of Texas covered today includes:
Our Lone Star story of the day: The Texas press, and Austin power insiders, paint those who want only Republicans to be chairman of Texas House Committees as radicals even though that's the longstanding tradition of the U.S. Congress – the majority party gets the gavels. A rules fight is coming in January to try and accomplish this key Texas GOP priority but it will take much pressure on state reps from constituents to get it done.
Also, a key lawsuit has been filed over restrictions placed on the people to do with races for Texas House Speaker. The House has passed laws designed to insulate it and its members from the public those members are supposed to serve.
Our Lone Star story of the day is sponsored by Allied Compliance Services providing the best service in DOT, business and personal drug and alcohol testing since 1995.
Anti-Wimp update: Teen robbers shot by victims armed friend.
More alleged corruption at Texas Southern University; its police chief this time. As I have said for years, the institution needs a deep house cleaning and to have its administration taken over by an institution with a better, more competent culture.
And, other news of Texas.
Listen on the radio, or station stream, at 5pm Central. Click for our affiliates, or hear the podcast of the show after 6pm Central here.