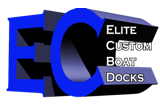 Elite Custom Boat Docks is the BEST in custom boat docks in Brownwood, Abiline and across the Big Country of Texas.
Elite Custom Boat Docks is locally owned and operated and has been providing honest and reliable in Custom Boat docks in Brownwood, Texas – as well as in 150 mile radius of Jones County TX, San Angelo TX, Eastland TX and the surrounding areas since 2009! We have a wide range of services we offer and years of experience to draw from.
See photos on the facebook page: https://www.facebook.com/elitecustomdocks/
Because Elite Custom Boat Docks is committed to delivering quality results . . . we hold the belief that honesty, clear communication, and complete transparency are essential ingredients to a successful business/client relationship. There's a reason Elite Custom Boat Docks is the first call for many.
Please contact us today at (325) 260-7982. We look forward to speaking with you and learning more about how we can serve you.
Services
Boat Docks
Dock Repair
Metal Buildings
Water Toys
Boat Lifts
Car Ports
Dock Removal