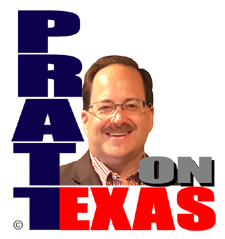 A native-Texan, Robert Pratt is a former chairman of the Lubbock County Republican Party having administered two Primary Elections. He served as a board member and regional director for the Texas GOP county chairmen's association (TRCCA) and was instrumental in passing election law reforms in the 2005 legislative session. He served for almost a decade as the party's finance chairman and as long as president of the county Young Republicans club, with the club being named as the outstanding club in Texas under his leadership.
Reared on a cotton farm east of Floydada, Pratt's career began at the age of 15 when he began selling business computer systems. He moved to Lubbock at 16 becoming a partner in a computer business which he built into the region's leading business computer maintenance provider. Pratt served as an officer and president of the Data Processing Management Association (now AITP) in Lubbock for several years in the late 1980's and early 1990's. He has 15 years experience in marketing, sales management, and executive management in the technology services industry.
While building his firm's El Paso, Texas office and expanding the firm into Chihuahua, Mexico, Pratt met the woman who would become his wife. Also politically aware and active, his wife Isabel has experience in the dangerous world of Mexican politics having openly supported that nation's first successful opposition party, the National Action Party or PAN in its first major victory.
In 1996, Pratt left his former company and founded a consulting and advertising firm. He has managed and consulted with numerous winning political campaigns. Additionally he has been instrumental in building companies for several clients and served as the exclusive marketing and national advertising agency for a leading catalog and Internet merchant.
Additionally, Pratt's consulting expertise extends well beyond marketing, sales training, and advertising. He has served as an efficiency and expense reduction consultant for numerous companies and negotiated contracts in areas as diverse as janitorial services to communications systems and from commercial insurance services to high technology services.
During his one-year, part-time attendance of Lubbock High School, Pratt brought a national title to the school in extemporaneous speaking. He was a district and UIL Region 1 debate champion several times as a student at Floydada High School in the early 1980's.
Pratt has hundreds of hours of experience in unscripted and scripted live television and radio. He was the 1998 Pee Bee Award winner for his on-air work for Public Broadcasting on the South Plains and was an on-air fundraiser for Lubbock's PBS affiliate for 20 years.
He and his wife Isabel are members of the Missouri Synod Lutheran Church and are supportive of the Anglican Church in North America (ACNA) and its reforms.
Since April of 2006, Pratt has been devoted full-time to Pratt on Texas, a radio news and commentary talk show airing weekdays.
Click here to request Pratt to speak at your event.

Media use: Pratt head shot is here.
On the Townsquare cancellation of Robert Pratt & Pratt on Texas