Official Pratt on Texas sponsor on AM790 KFYO in Lubbock.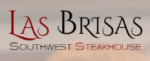 Las Brisas Southwest Steakhouse is my official Pratt on Texas steakhouse for a reason: Delicious steaks and top service (and yes, the cigar-friendly outdoor patio by waterfall doesn't hurt either!)
Tell general manager Jimmy Rogers "Pratt sent you."
Steaks and fresh seafood and five years of Wine Spectator awards – Las Brisas is the place for important business dinners, special occasions, and the place to meet dear friends.
And important to me, because I don't stand in lines, they take reservations!
Las Brisas Southwest Steakhouse – the official Pratt on Texas place to dine.
806-687-6050