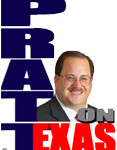 I've told you how many local officials, such as county judges, commissioners, mayors, and city council members, are engaged in a clever way to mislead the public because so many, including much of the media, are ignorant of how the property tax system works having fallen for the lying propaganda for years that increases in average appraised values are why taxes go up. The truth is quite different.
You have county judges, among them Dallas Democrat Clay Jenkins and Galveston Republican Mark Henry, claiming that Governor Abbott or the legislature must use the declared virus emergency to freeze property appraisals at last year's level to prevent people from suffering big tax increases from local governments this year.
This is a contemptible premeditated lie.
House Ways and Means Committee chairman, Rep. Dustin Burrows of Lubbock, answered Dallas County Judge Jenkins with this on Twitter:
"Judge, you realize that if you want to provide county property tax relief for the citizens of your county, you and the commissioners are the ONLY ones who can do that. All you have to do is to decide to take in less revenue."
Yep, all local taxing entities have to do, no matter how high appraised values are, is to adopt a tax rate this summer that takes in less revenue from property tax payers to provide a tax break.
However, many of them would rather mislead you with their values freeze gimmick.