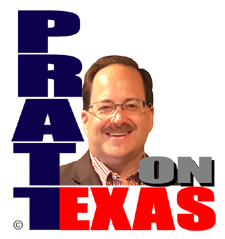 The news of Texas covered today includes:
Our Lone Star story of the day: It is all about leadership and responsibility in restraining the growth of local government. All too often officials say they must have more money, must grow local government more than inflation and population growth, but guess what? There are always a few across the state who prove that with better management, leadership, and a remembrance that they work for the taxpayers not for government employees one can indeed fully fund local government without raising property taxes.
Maybe your town, county, or school district cannot live without more and more money because its leaders are not very talented?
Our Lone Star story of the day is sponsored by Allied Compliance Services providing the best service in DOT, business and personal drug and alcohol testing since 1995.
Anti-Wimp update: Don't attack armed people in the BBQ joint restroom.
After seeing, and hearing, the video, I'm even MORE with Rep. Ronny Jackson. Too many police at this moment a girl was in medical distress were infected with I'm-in-charge-here syndrome than with let's help the girl first. Most media leaves out witnesses involved who said:
Two people who reportedly witnessed the July interaction, Chris and Jodi Jordan, said they were at the rodeo and explained Jackson was trying to help the girl before medics arrived and that the deputies aggressively pulled him away. "We were just appalled," said Chris Jordan, 48, of Hereford. "The slamming to the ground I didn't understand whatsoever."
A big Texas victory over the Leftist ESG movement.
Listen on the radio, or station stream, at 5pm Central. Click for our radio and streaming affiliates, or hear the podcast of the show after 6pm Central here.