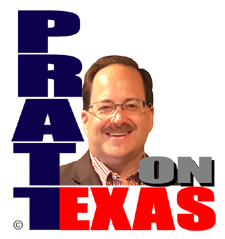 The news of Texas covered today includes:
Our Lone Star story of the day: Governor Abbott, not taxpayers, should pay preposterous A&M "settlement" of $1 million for a job the woman walked away from and had no loss because she retained her tenured job at UT-Austin! Abbott appointed all the A&M regents and he should make good the million out of his huge campaign account because it is beyond unethical that taxpayers are put on the hook for this. See also: Texas A&M reaches $1M settlement with Kathleen McElroy – note how the utter dishonestly of the press on this continues.
Our Lone Star story of the day is sponsored by Allied Compliance Services providing the best service in DOT, business and personal drug and alcohol testing since 1995.
TPPF points out City of Lubbock's own audited data shows a massive increase in spending over the past decade which far, far outpaces inflation and population growth.
Oil price high but Texas suffers another big falloff in oil and gas drilling rigs.
Ballot order set for the 7 November 2023 Constitutional Amendment election.
Listen on the radio, or station stream, at 5pm Central. Click for our radio and streaming affiliates, or hear the podcast of the show after 6pm Central here.