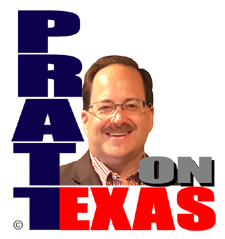 The news of Texas covered today includes:
Our Lone Star story of the day: "Will Dan Patrick challenge Greg Abbott for Texas Governor?" I've been consciously waiting for this story in the big Texas legacy press and I'm glad it came from Gromer, a good writer.
I'd be on the Patrick side immediately if such happened now but that is because he is the more movement conservative. He's not perfect on everything, but has proven that he is about moving conservative policy and reform more than he is about promoting a political career – which is the biggest knock against Abbott.
I tend to agree with almost every part of Gromer's speculation in the later part of the story. Oh, but wouldn't such a race be epic!?
Our Lone Star story of the day is sponsored by Allied Compliance Services providing the best service in DOT, business and personal drug and alcohol testing since 1995.
Feds will sue Texas over the floating Rio Grande River barrier. IBWC: Abbott does not have permit to erect floating barriers on Rio Grande. Also, more strong evidence Biden's illegal alien "parole" program is a hoax.
Record jobs and employment growth in Texas, outpacing all other states.
Another big drop in the oil and gas drilling rig count for Texas.
TX19's Rep. Jodey Arrington cast what I believe to be an "evil" vote – he voted, at the behest of the airline lobby, against requiring airline pilots who lost their jobs for refusing to take the dangerous WuFlu "vaccine."
Impeachment news: Paxton's Attorneys Move to Exclude Three Democratic Senators From Impeachment Trial. I don't think anything will come of this. If fairness mattered the House wouldn't have impeached as it did!
And, other news of Texas.
Listen on the radio, or station stream, at 5pm Central. Click for our radio and streaming affiliates, or hear the podcast of the show after 6pm Central here.