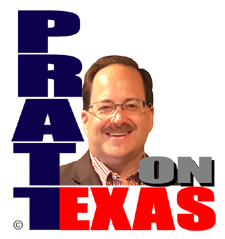 The news of Texas covered today includes:
Our Lone Star story of the day: Some House leadership team with Democrats to try to use a budge amendment to stop school choice. Given that Speaker Phelan owes his power to Democrats, and thereby his key chairmen too, why not? That and more from the 88th Texas Legislature.
Our Lone Star story of the day is sponsored by Allied Compliance Services providing the best service in DOT, business and personal drug and alcohol testing since 1995.
The Texas Medical Board back pedals in it's political persecution of a doctor and reinstates his license to practice – but his lawsuit against the TMB continues.

The Trump indictment and how it happened before in Texas.
Texas Supreme Court rules universities can take back diplomas but I think the dissenting opinion is the right line of thought.
And, other news of Texas.
Listen on the radio, or station stream, at 5pm Central. Click for our radio and streaming affiliates, or hear the podcast of the show after 6pm Central here.