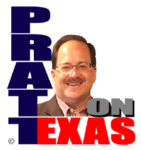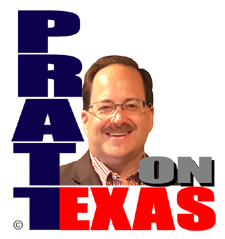 The news of Texas covered today includes:
Our Lone Star story of the day: It's Texas Independence Day and we celebrate with a reading of the Declaration of Independence and a two-segment interview with the world's preeminent Texas historian Dr. Stephen L. Hardin.
Stephen L. Hardin is a professor of history at McMurry University in Abilene, Texas. He is author of numerous award-winning books on Texas history and more than a dozen scholarly articles enjoyed by readers on both sides of the Atlantic. Texian Iliad, published in 1994, achieved distinction as a "Basic Texas Book" when bibliophile Mike Cox included it in More Basic Texas Books. His book Lust for Glory: An Epic Story of Early Texas and the Sacrifice That Defined a Nation is a must-read and a perfect "first" book to read on Texas history.
When not engaged in the classroom, he serves as an on-air commentator, appearing on such varied venues as the A&E Network, the History Channel, and NBC's TODAY show. Most recently, he appeared on the Fox News series, "Legends & Lies." And most importantly of all, Dr. Hardin has appeared numerous times on Pratt on Texas!
Podcast Extra: An Independence Day audio treat – Dr. Stephen Hardin interview from 2019 on his book Lust for Glory about the founding of Texas.
Our Lone Star story of the day is sponsored by Allied Compliance Services providing the best service in DOT, business and personal drug and alcohol testing since 1995.
School choice: Another poll shows Texans back real school choice and without the mythical "rural divide."
Texas sales tax collection well outpaced inflation in February.
Texas wins Site Selection's Governor's Cup for record-breaking 11th consecutive year.
And, other news of Texas.
Listen on the radio, or station stream, at 5pm Central. Click for our radio and streaming affiliates, or hear the podcast of the show after 6pm Central here.