The news of Texas covered today includes: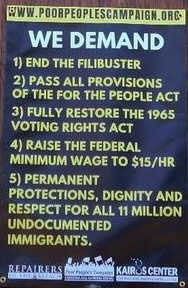 Our Lone Star story of the day:  Thousands marched to the Texas Capitol claiming it was to address voting rights. The media seemed to miss the giant sign on the lectern in which 40% of the "DEMANDS" of the event had nothing at all to do with voting. In short, it was just another Leftist Democrat stunt that even local media was happy to use to spread propaganda.
AWOL Democrat Texas State Rep. Senfronia Thompson, in D.C. hearing testimony, reveals how she and her fellow activists are living in a mental world of oppression not supported by the facts.
Our Lone Star story of the day is sponsored by Allied Compliance Services providing the best service in DOT, business and personal drug and alcohol testing since 1995.
WuFlu, masks, and what the media, and CDC, wouldn't directly tell you about their very small data sets used to re-issue guidance for masking even for those with the vaccine: The Gay [Homosexual] Festival Behind the CDC's New Mask Guidelines.