Conservative talk show Pratt on Texas has new radio home in Abilene and the Big Country
Q Country 96.1 [FM] is the new home of Pratt on Texas in Abilene and the Big Country of Texas airing weekdays at 5pm beginning on Monday, 19 April 2021.
"I'm excited that Pratt on Texas returns to the air in Abilene, for my 15th year of providing the news and commentary, of Texas on Q Country 96.1. I'm especially proud to be on a radio station that is Texan-owned and all about Texas – just like Pratt on Texas."
"I'm ecstatic to have Pratt on Texas on Q Country 96.1.  The country audience generally leans conservative and when you throw in the fact that we target the farmers and ranchers, it just makes sense.  The show will be a perfect fit with our audience.  It's a little bit of a throw back for a music station to have talk programming mixed in, but we've been doing it for a while with local news plus farm and ranch content.  So, having Pratt on Texas will absolutely add to the content that we already provide," David Klement, owner/manager Q Country 96.1.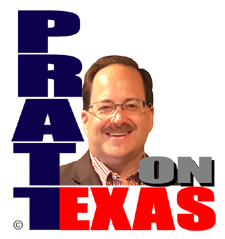 Robert Pratt, host of Pratt on Texas, has broadcast Pratt on Texas many times from Abilene and looks forward to more events with loyal Abilene-area listeners as part of the Q Country 96.1 family.
Pratt on Texas has a strong conservative following in West Texas. The show keeps you up to date on national, state, and local political issues with Pratt giving his opinion on how the current climate affects you and what is right and wrong with the actions being taken by government officials.
About Robert Pratt:
Robert Pratt is native-Texan reared in Floyd County and has built several businesses during his career that began with a computer maintenance and support business covering all of western Texas, Abilene included, in his teenage years in the 1980's. During all of his business work, Pratt was active in Texas politics as such is his true passion. In April of 2006, Pratt began broadcasting Pratt on Texas, a show and network he owns, to better inform Texans of government action at the state and local levels often ignored by national media. Another purpose of Pratt on Texas was, and remains, to celebrate our unique Texas culture. More here.