The featured cigar is the Latitude Zero Toro (6″ x 52) by Nicaraguan American Cigars SA (NACSA) and Oliva Tobacco Company (OTC).
This new entrant to the premium boutique market is the logical extension of Oliva Tobacco Company's (not the same as Oliva Cigars) decades-long history of producing quality tobacco in Cuba, Ecuador, Honduras, Connecticut, Florida, and the Dominican Republic, as well as in Nicaragua. Their crowning achievement has been the Ecuadorian Habana wrapper leaf, used in the newly introduced Latitude Zero cigars.
Latitude Zero is the first fully independent end-user product of NACSA and OTC, whose farms also produce prime tobacco for Davidoff, Dunhill, Rocky Patel, Steve Saka, and many others. Beneath the Ecuadorian Habano wrapper is a uniquely fermented Nicaraguan binder. The core is formed from the top 10% of the first primings of a 2010 Nicaraguan crop termed "La Joya" (The Jewel). Latitude Zero is available in four vitolas; this review is based on the Toro, 6″ x 52.
Because I found some variability in the example cigars, I used three examples, with different cuts, in my analysis. Example #1 was deep-V cut and presented an easy, very spicy pre-light draw. Unevenness in burn began after 1/2 inch and persisted but responded somewhat to positioning. Initial flavor was 2+ natural tobacco (which did not change throughout), with 2+ spice (black pepper) and notes of cedar.
Example #2 was quite different. After the central punch cut, the cigar began with a slightly uneven burn. By 1 1/2 inches, the draw became difficult despite touch up and attempted loosening with an awl. Flavors, which contained natural tobacco and black pepper spice as before, became very hot and unpleasantly bitter. A prominent metallic taste overwhelmed other more subtle flavors, but faded somewhat as the cigar was smoked to about 3 1/2 inches.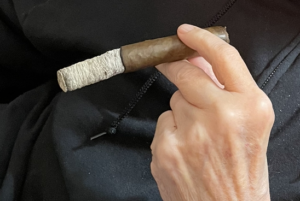 Example #3 was guillotine-cut, with an awl introduced from the head and foot ends before lighting. No hard spots or regions were noted. Burn was extraordinarily even, with an ash that remained intact until spontaneous separation at 2 7/8 inches (see photo). The cigar was mid- to full-bodied, with a base of natural tobacco enhanced with a 2+ black pepper and notes of earth, leather, cedar, and cinnamon.
I think (I hope) that example #2 was an outlier. Generally this is a good cigar, on the strong and spicy side of medium. There is a very good review of the history of the Oliva Tobacco Company by Lindsay Heller in the January 2021 issue of Cigar.com. https://www.cigar.com/articles/meet-me-at-latitude-zero-article/2034480/
I usually assign a numerical rating (0-100) but will not do so for the Latitude Zero for three reasons.
Latitude Zero is too new an entrant to the market, and is the first end-user product from OTC. Although the Oliva family has been growing prime cigar tobacco in numerous locations for nearly a century, there is more to a fine cigar than the tobacco used. Time will tell whether this product will meet expectations, but so far the prospects look good.
I am concerned about the variability represented by Example #2. Example #1 would be rated "Very Good" and #3 would be "Exceptional". However, #2 was obviously an outlier which would not have been smoked beyond 1 3/4 inches if it had not been for the fact that I was rating it. (To be fair, I have used a guillotine cut but not the awl to smoke about ten of the cigars in the box and have had no more bad experiences.)
Although some degree of variability is present with this cigar, most would be rated "Good" to "Better" by those who prefer smoking full-bodied cigars.
Latitude Zero is recommended as an evening smoke enjoyed with a heavier libation such as Canadian, American, or Scotch whiskey.
Availability: Latitude Zero Toro cigars are available from Cigarsinternational.com and Cigar.com at $30.00 for a pack of 5 ($6.00/stick) and $104.99 for a box of 20 ($5.25/stick). Also available at Thompson.
Enjoy!
Doc