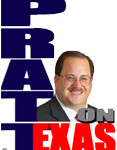 "State Representative Kyle Biedermann (R-Fredericksburg) said today that he will file a bill that would allow Texans to vote on Texas independence," The Texan reported.
"The federal government is out of control and does not represent the values of Texans. That is why I am committing to file legislation this session that will allow a referendum to give Texans a vote for the State of Texas to reassert its status as an independent nation," Biedermann wrote.
Some simply do not understand why I do not, in my opinion, waste much show time with the secession topic when so many others do so. Most of them do so because it is audience red meat that gains lots of phone calls but, does it accomplish much?
I really have zero objection to holding a statewide vote on the issue but I do have a problem with frittering away voters' finite political attention and energy on such issues when there are so many other immediate threats to our Liberty that need action.
There are all types of people who profess to be experts on the issue and make claims from the reasonable to the wild about Texas' ability to leave the Union. Most of what is offered up is wishful thinking bunkum.
The issue of leaving the Union was settled in a bloody war between the states and those who supported the idea of states being able to withdraw lost, and lost humiliatingly badly. It settled the issue and the only way to let Texas go, despite what some documents appear to say, is for all 49 other states and the federal congress to agree. I don't give that much chance of happening.
I'm all for the sentiment but I'm all against wasting much time and energy on fruitless endeavors.