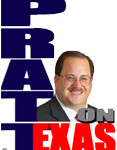 Professional researcher and writer on health and science issues for more than 30 years, and Pratt on Texas listener, Sandy wrote about the current big scare in Lubbock over COVID: "As of Saturday, there were 299 empty hospital beds, including ICU, in the entire Lubbock area (called Trauma Service Area B). That's 3 dozen more empty beds than just last Wednesday when the medical tents first made the news. The public is being led to believe the hospitals are overflowing and need emergency tents because the pandemic has again reached a crisis."
Sandy says we observant citizens should "call foul" and note that most local media is complicit in "perpetual scaremongering."
That will sound overly strong to some but I've watched very carefully from the beginning of the grand WuFlu panic and it is a quite fair allegation of our local media, and not just that of the Lubbock market about which she writes.
In daily, weekly, and event driven special coverage it has been extraordinarily rare to have reporters for print, television, or radio ask informed, tough questions which have answers that provide context, not just important, but necessary context for the public to make truly informed decisions about COVID and government and medical response to such.
A perfect example across all media in Texas is case numbers. Last week headlines screamed "Texas hits 1 million COVID cases" and "Texas becomes first state to top 1 million coronavirus cases." Hundreds of press outlets reported such panic inducing headlines when in reality Texas Dept. of State Health Services reported Sunday that Texas has only has 135,912 active COVID-19 cases, less than half of one-percent of the Texas population.
National, state, and local media are complicit in creating massive economic and personal damage by being either too lazy or too agenda driven to report virus information in proper context. That might please Leftist or ignorant reporters but the jig will be up when they have no jobs because their reporting put all their news organizations' advertisers (or donors) out of business.
Update: Del Rio News-Herald ceases publication, blames virus cutback – the losses are due to lockdowns and orders that curtailed business with advertisers.