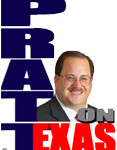 After the 2008 election when Barack Hussein Obama won the presidency, I wrote:
Quite a few people … have reached out to ask me what we are going to do as a result of the election.
We are going to be Liberty Loving Texans and fight attempts to roll-back our Liberty and turn this country Left. It was the Left who claimed that dissent and disagreement with the White House was Patriotism on display. So, we'll be Patriots.
The difference is that we'll be like Travis, Bowie and other Texian heroes: we'll be fighting to maintain and restore, the promises made us in our Constitution, not working to change it to some unrecognizable socialist manifesto.
I must write and produce this commentary before the results of the election are known so maybe this is great day of celebration and relief, or maybe it is a day of deep concern and even mourning for our nation. Either way, one thing remains certain that is often forgotten by conservatives: The Leftist Barbarians are always at the gate, or even inside the walls, trying to destroy our individual liberties and the concept of limited government.
The fight never ends.
While a big electoral victory is reason for celebration and momentary relief, it is never a reason to lay down our political arms and pretend we have vanquished our foes.
The price of Liberty is indeed eternal vigilance.