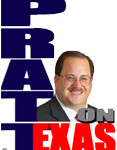 It is, and should be considered so by all, reprehensible that a city official, paid generously by taxpayers, would expressly attempt to mislead taxpayers to believe that a proposed tax increase is actually a decrease. We've come to expect such from some elected officials but paid staff should be expected to always give clear and straight answers to the citizens for whom they work.
The City of Lubbock's chief financial officer, Blu Kostelich, received an email from a citizen expressing opposition to the proposed city property tax increase. Instead of acknowledging that the proposed tax rate is a tax increase, Kostelich wrote back attempting to make it appear that it was actually a tax decrease. Kostelich fully knew that the tax rate percentage number, while lower than the current year's tax rate percentage, was indeed a substantial tax increase.
We've become sadly, or sickeningly, accustomed to elected officials misleading the public on property tax increases and that lying is, in a big way, responsible for the property tax reforms passed last year by legislators in SB2.
The lying is widespread. Someone in Wichita Falls government told a newspaper reporter that "The no-new-revenue rate would mean a $1.4 million decrease in the property tax revenue." Sorry, but that is mathematically impossible – it's not opinion, it is impossible.
And Wichita Falls city manager, one Darron Leiker, claimed that adopting the Effective Tax Rate would require "cuts" to "police and fire departments." How does that work given that the No New Revenue Rate, or Effective Rate, brings in the same amount of money from existing taxpayers, via property taxes, as it did in the current year's budget?
Read more: It's not just local elected officials who mislead voters on tax increases