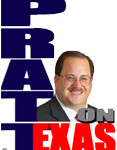 Another important GOP primary election runoff is for Place 4 on Texas 7th Court of Appeals.
In this race I recommend Justice Larry Doss. Doss was appointed to the court by Governor Abbott and is opposed in the special election by a person I heard nothing from during the March primary season.
Justice Doss is board-certified by the Texas Board of Legal Specialization in Civil Appellate Law and has proven experience in our appellate courts for clients across Texas. He was a briefing attorney for widely respected federal Judge Sam Cummings; holds a BA and MA from Baylor and is a graduate of Texas Tech's School of Law.
Doss has more than 18 years of experience handling civil and criminal legal matters in trial and appellate courts throughout Texas and the Southwestern United States.
Doss' opponent, Amarillo attorney Steven Denny, has previously run unsuccessfully for a judge slot and district attorney. Mr. Denny received a very large, $5,000, donation for the Teamsters Union – that's right the Teamsters Union (Local 577) which is not exactly a relationship one would expect of a conservative Republican, especially in northwest Texas. At the time of my writing the Teamsters Union donation represented almost 65% of funds raised by Mr. Denny.
The WuFlu delayed Texas political party runoff elections are set for Tuesday, 14 July with Early Voting running Monday, 29 June through Friday, 10 July.
I ask you to vote for Justice Larry Doss for the 7th Court of Appeals.
UPDATE: Denny has taken another $3000 from the Teamster's Union. Look up the filing, his Texas filer number is 00080236.