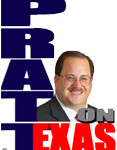 One wonders what it is in the makeup of outgoing Texas Speaker of the House Dennis Bonnen that he decided to appear on KFYO's Chad Hasty Show to talk more about the meeting he setup with a political enemy at the end of the last legislative session.
As my wife put it: "He's already done so much damage to Republicans, to himself, to other people he got involved, why is he talking? He should stop talking about it."
Well I agree, but in full Clinton-style, it seems Mr. Bonnen thinks he can simply claim a reality different from what is on the record and he will recover his reputation because people will not remember what happened.
Two of the low-lights of Bonnen's comments on Chad's show are:
Bonnen claimed he setup the meeting with Empower Texan's Sullivan to stop, or slow down, attacks on Republicans. But, in the meeting, Bonnen had a list of Republicans to attack in the primaries presented to Sullivan with an offer of giving press credentials for the Texas Scorecard if Sullivan went after those Republicans listed. What a two-faced liar this man is.

Bonnen also claimed that none of it should have mattered because Sullivan should have known the press credentials offer was not authentic. Really?
All Dennis Bonnen did in his KFYO interview was to remind us all what a warped idea of integrity and ethics he has and that we should all be thankful he will not be around next legislative session.