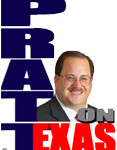 I have a question for listeners who live in parts of Lubbock County, all of Borden, Gaines, Lynn, Mitchell, Scurry and Terry counties: How would you like to have as your state representative someone who believes local government should have ready and easy access to your pocketbook whenever and for whatever officials think is a better way to spend your money than you might think?
How about having as your state rep. someone who strongly opposed property tax reform passed by the legislature that when fully implemented gives you a say in big tax increases and will make it clear to voters when officials are actually increasing taxes, making it harder to play the old dishonest "didn't raise the rate" game?
How would you like as your state representative in House District 83 someone who, once elected to county office, spent years raising taxes and voting to raise his own salary – to about double where it started?
And how would you like to have as your HD83 state rep. a man who in all his years in public office, who voted annually on budgets and taxes, was so incompetent he never understood even the basics of how property taxes work? His ignorance was so bad that he sent a stock email to taxpayers objecting to him supporting a big tax increase telling them: "Actually, even if we were to adopt the effective rate, our taxes would increase…"
Yes, Lubbock County's longtime tax-and-spend ignoramus commissioner Bill McCay is intimating that he may run to challenge taxpayer champion Representative Dustin Burrows.
If forty percent Lubbock County, including me, and all of Borden, Gaines, Lynn, Mitchell, Scurry and Terry county voters want a man as their rep who will oppose pro-taxpayer legislation in Austin and take his orders from his higher-tax, bigger-government puppet masters, they might get a chance to vote for Bill "All-hat-a-no-cattle" McCay.