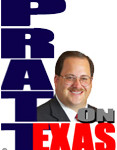 Some may wonder why I have referred to a Lubbock County commissioner as all hat and no cattle for years.
For the first many years he held office, Lubbock's Precinct 1 commissioner Bill McCay was always in a fine cowboy hat and, like the fake movie cowboys, he looked good in it but he's not a cowboy. He was a copier and yellow page salesman who got elected due to name ID being married to the area's top TV news anchor.
Lubbock County's Bill McCay never stops demonstrating that commissioner he is indeed all hat and no cattle, or if you prefer all hammer and no nail; all shot, no powder; all sizzle and no steak; all crown, no filling, or; all foam, no beer.
He's a political imbecile who parrots what others tell him and then makes clear he doesn't understand even the basics of his job as a county commissioner and this week he proved it again.
In writing back to one of my listeners, McCay demonstrated that despite a decade and a half of voting on county budgets and tax rates, he has no idea what he's been doing.
McCay wrote:
"Thank you for expressing your concerns and I would love to lower the tax rate… but doing what I would like to do versus what we have to do are very different. Actually, even if we were to adopt the effective rate, our taxes would increase, on average almost $11 per year. The reason is the increase in appraisals that the Lubbock Central Appraisal District sets as dictated by the State Comptroller's Office. We do not control the appraisal of properties, the State does."
McCay thinks that property taxes go up if the county adopts the Effective Rate because appraisals went up.
The imbecile is unaware that the Effective Rate is calculated after appraised value changes to be the tax rate at which the same revenue would be pulled from the same taxpayers as the year previously – that's why its name is changing next year to the No New Taxes Rate.
McCay is either purposefully lying to the constituent to deflect blame for raising taxes or, as I believe knowing him, demonstrating that he is completely ignorant of the most essential basics of county finance and taxation and an imbecile for making it so obvious.