The featured cigar is the Miami Havana Cazadores Lonsdale (6 1/2″ x 44) by Tatuaje Cigars.
I do not usually post reviews of cigars over the $10/stick price range, but I was so pleasantly surprised by this one, that I am doing so. (And the price per stick falls below my threshold if ordered by the box online.)
This cigar is a Nicaraguan puro, with Nicaragua-grown Corojo wrapper and Nicaraguan binder and fillers, all grown from first-generation Cuban seed.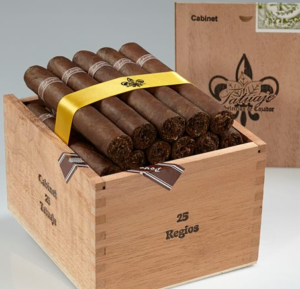 The construction of the first example smoked was, quite simply, perfect. There was no unevenness of burn, so no attention to repositioning was required. The burn was straight, absolutely even, with no runners, disadhesion or separation. The first cigar was ashed three times.
Subsequent examples rarely showed more than minimal unevenness requiring repositioning. One touchup was necessary at three inches with one example.
Upon lighting, the flavor profile of this cigar consists of a rich, full-bodied and slightly sweet natural tobacco, soon joined by a 2+ tangy, spicy red pepper. A rich, leathery earth flavor completes the profile. Wood notes (oak and cedar) appear intermittently in different sticks, as does nutmeg.
Rating: 99
This is an outstanding cigar with essentially flawless construction and a very pleasant, intriguing progression of flavors. It is probably best as an evening cigar, but would also serve well in the afternoon for times of relaxation, reading or conversation.
Availability:
This cigar can be purchased locally at Good Karma Cigar in Lubbock for $11.50/stick.
It is available from Atlantic Cigar Company at $206.95/box of 25 https://atlanticcigar.com/tatuaje-miami-havana-cazadores/ . Cigar.com has them too: https://www.cigar.com/mobile/p/tatuaje-miami-cigars/1466652/
Enjoy!
Doc
Pratt note: I've never had anything less than a remarkable cigar from Tatuaje.