The featured cigar is the Don Rafael Vintage 2004 Churchill Connecticut (7 1/2″ x 52) by Victor Sinclair (submitted by reader R.P., with 3 examples).
This cigar is truly a bargain; a very good, flavorful, well-constructed and consistent product at an almost unbelievable price.
In a long-Churchill vitola, the Don Rafael Vintage 2004 Connecticut is impressive visually. After a punch or V-cut (I recommend the punch option), the draw is easy. Upon lighting, the flavor is immediately a purely rich natural tobacco contributed by the Ecuadorian Connecticut wrapper. Shortly after lighting, the natural tobacco flavor is joined by the rest of the flavor profile from Dominican binder and fillers: spice (a light white pepper), earth tones, and wood.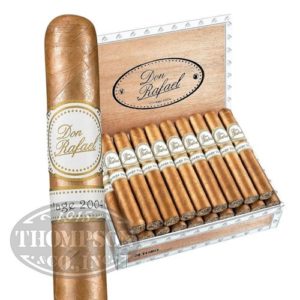 The spice increases to a medium-strength black pepper, and then persists. (In one example it diminished to light white pepper just prior to the finish.) Wood becomes a distinct light cedar by 1/2 inch, and also persists. In one example, a mild, pleasant, bitterness appeared just prior to the finish. Overall, the flavor profile is not complex, but is robust and stable; the cigar is medium-bodied and smooth.
Construction is fairly good. Some degree of uneven burn was seen in all examples. All unevenness of burn responded to repositioning. Two slow runners occurred in one example, requiring touch-up.
Rating: 92
This is a good-to-excellent "anytime" cigar, but please remember, it IS a long-Churchill and requires some attention due to uneven burn. The same blend is available in Robusto and Toro vitolas for readers who may desire a less time-consuming experience.
Availability:
I have not found this cigar at any of the local Lubbock shops. [It's a Thompson exclusive. – Editor]
It is available from Thompson Cigar by telephone (800-573-9099 for information and 800-237-2559 for orders), or online from thompsoncigar.com.
The price is $44.95 for a box of 20 Churchills ($2.25/stick).
Enjoy!
Doc