The featured cigar is the Habano (El Rey) (6″ x 54) by Dominican Big Leaguer Cigars (DBL).
Francisco Almonte, founder of DBL Cigars, comes by his interest and passion for fine premium cigars honestly. He began work at age seven, deveining tobacco leaves for his father. By age twelve he was an accomplished torcedor, whose skills were further refined by the opportunity to work with Carlos Fuente of A. Fuente Cigars, and with Litto Gomez of La Flor Dominicana Cigars. These experiences imparted to Francisco the knowledge and abilities to create unique and well-constructed blends, for what would become his own company, DBL Cigars in Tamboril, Santiago, Dominican Republic.
Francisco says the only honest occupations open to a boy growing up in the Dominican Republic are professional baseball and rolling cigars. He jokes that he was no good at baseball, so took the only path open to him. Fortunately, he was VERY good at that!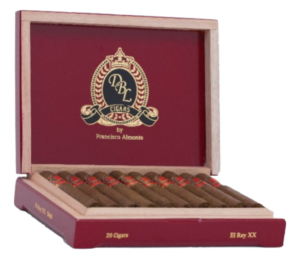 The DBL Habano (El Rey) is an attractive cigar, with a sleek Ecuadorian Habano wrapper. Binder is Dominican, and filler is Dominican and Nicaraguan. This blend was the first of the DBL line and is Francisco's tribute to his father, who first developed a similar blend in the 1980's.
After the cut, the draw was easy. Most points lost were due to uneven burn (usually resolved with positioning). Runners were a problem with one example requiring touch-up twice. There was no disadhesion or unravel.
Flavor was characterized by a sweet natural tobacco at the start, accompanied by spice which began as light white pepper and progressed to a more robust black pepper by the middle of the cigar. Wood tones included both cedar and oak, but at different intensities in different cigars. Earth and leather notes also occurred at low intensity. No heat, bitterness, or unpleasant flavors (e.g., metallic) were observed.   The blend is medium-bodied and pleasing throughout.
Rating: 92-95 (somewhat variable per example)
A good to excellent evening cigar with fairly good construction and an interesting, complex flavor profile, which varies somewhat between sticks, but follows a consistent pattern.
Availability:
The local [Lubbock] dealer is Smoker's Haven, where it sells for $7.25 per stick or $130.25 for a box of 20.
Online, you can read about all the DBL products, including the novel "Baseball Bat," at DBLcigars.com. Their telephone number is (347) 445-6295.
Enjoy!
Doc