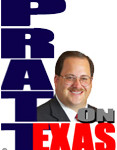 I am bored with, like much of the country, Beto Pancho O'Rourke and not particularly interested in writing about him at the moment but, when you run across a headline like this, in a newspaper very fond of him, what else can one do? An Austin American-Statesman headline this week, and I am not kidding you: Spurned in polls, Beto draws succor from ex-girlfriends.
The story by the paper's editing challenged Jonathan Tilove was more of the same overwrought handwringing over the beloved Beto Pancho and how he seems to be floundering. "Caught in the no-man's land between lively crowds and lousy polls numbers, there is this solace for Beto O'Rourke, which is really all a man can ask: His ex-girlfriends still like him, and so does his wife," Tilove wrote after quoting pages and pages of other media coverage.
You know the Beto Pancho mania jumped the shark when writers are turning out pages on how "his ex-girlfriends still like him."
That other self-important Texas radical Leftwing Democrat running for president, a man so arrogant he makes the self-filming Beto Pancho look a bit modest, is collecting a lot of headlines but all of the negative nature. That same paper ran a story titled "Lagging behind, Julián Castro needs a moment," lamenting the former San Antonio mayor and Obama cabinet member's moribund campaign.
The aptly named Castro twin (his brother Joaquin is a Leftist member of the U.S. House) is trying to ignite his effort to win the Democrat nomination by focusing on "universal Pre-K." That's not going to be much fuel to get out of port when many misguided Republicans around the country are aboard that policy ship already.
Both O'Rourke and Castro have adoring fan bases, who mostly work for a few Texas newspapers, which is not enough win many primaries.