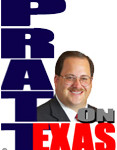 "Facing diminished support among GOP lawmakers, a measure backed by Gov. Greg Abbott and other top Republicans to raise the state sales tax and buy down property tax rates died a public death Tuesday in the Texas House," reported the Austin American-Statesman.
As I said weeks before, when this bomb of a plan was publicly dropped, it was going nowhere and the most obvious reason was that with Democrats opposed it was not possible to obtain enough votes, a super-majority, required to put the matter on a constitutional amendment ballot.
We'll see if the mandarins of the House can pull themselves back to straightforward action on property tax reform and public school finance. The reason they over complicated things to begin with was that they were trying to spend more money than we currently have to both massively increase public school spending and leave the session with the accomplishment of significantly reducing local school property taxes. That second goal is laudable but the massive spending reminds that some Republicans, like House Public Ed. Chairman Dan Huberty, aren't that far away from being Democrats when it comes to growing government.
A few really good things passed this House this week in Austin including a ban on the pernicious scam of red light camera ticketing. It had better get through the full process and become law. The House also passed a bill that would let the Texas Attorney General prosecute telemarketers for spoofing numbers.
As someone reminded this week, nothing is ever completely dead until sine die, the end of the legislature's 140-day session and there is much important legislation for which the House hasn't yet schedule a vote.