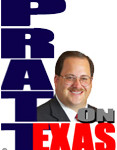 Last week I reported that the head of the Texas Senate, our Lieutenant Governor Dan Patrick, had released committee assignments for the 86th Regular Session of the Texas Legislature. In reporting such I mentioned that I was not alone in noting that this session's odd-boy-out was clearly Senator Kel Seliger of Amarillo (SD-31) who lost the gavel of the much lobbied Higher Education Committee and was moved over as chairman of the Senate Agriculture Committee.
Simply observing that such happened and mentioning that it was no surprise that it happened to Kel Seliger, no conservative he, was about all of the mention I thought it deserved.
But then, Emma Platoff of the Texas Tribune, reported via Twitter on Friday that she had spoken with Seliger who claimed "many in his district are feeling 'dismayed and disrespected'" by his being moved to chairman of the ag committee.
After his whining to the press, Seliger took exception to the spot-on reply quote given the media by Sherry Sylvester who is a key adviser to Dan Patrick.
Sylvester rightly said: "If Senator Seliger believes serving as Chair of the Agriculture Committee — a critical committee for West Texas and all of rural Texas — is beneath him, he should let us know and the Lt. Governor will appoint someone else."
Seliger then critized Sylvester and said: "I have a recommendation for Ms. (Sherry) Sylvester and her lips and my backend."
Poor Kel, for all his self-belief and overt arrogance, he has demonstrated once again that he is not nearly as smart as he thinks himself to be and has made himself the first self-promoted sad sack soap opera story of the session.