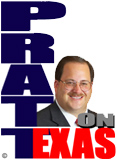 In a story headlined "Lupe Valdez sees Texas Gov. Greg Abbott as President Donald Trump's puppet," the Democrat nominee for Texas Governor demonstrated once again how not-ready-for-prime-time she is, a situation asserted by many liberal writers in the run-up to the primary runoff.
"He's basically a puppet for the president," Valdez, the former Dallas County sheriff, said in an interview Sunday, arguing Abbott is "trying to find favor" with Trump, particularly on issues related to the border. "He's just following in Trump's footsteps, and we're strongly gonna go against that," according to the Texas Tribune report.
Maybe Valdez is ignorant of these past eight or so years or, she simply has contempt for the intelligence of her base voters.
Informed Texans know that Abbott has been on the political scene much longer than Trump and held consistent positions on the border and other issues prior to the Trump-era. If anything, it would be Trump adopting the positions of Texas leaders on these issues, not the other way around.
According to Patrick Svitek's Tribune story "In the interview Sunday, Valdez did not rule out increasing taxes if elected." That's hardly a position designed to attract voters beyond the non-majority Democrat base but a listener pointed out something else funny about Valdez' position.
Listener Emily posted on my Facebook page, as a comment on my Tuesday teaser that said Lupe Valdez is open to tax increases on Texans: "Well that just doesn't make any sense. Lupe Valdez already informed us that Greg Abbott made the [property] taxes so high that she can't pay hers! So why would she want to make them even higher?"
That's right, her excuse for not having paid her property taxes on seven properties in two counties, was that Abbott made the taxes too high. Of course the state government doesn't set property tax rates, only local governments do.