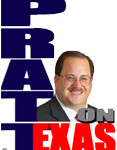 For many years I've pointed out how wrong it is to point to Washington, DC and say look how out of control it is; look how irresponsible they are; look at the stupid decisions they take; look at how self-serving they are, and; there's just something in DC that ruins them.
What goes on in Washington is the same behavior that goes on with "local control" in our local governments: Raising taxes year after year because there is no discipline on either spending or setting priorities; forcing individuals to take money from their own families to realize the dreams of others in community and school show-off project from fancy press boxes and scoreboards to water parks, arts complexes, and hotel projects.
How different from DC is it that for decades the insular crowd running Abilene's city government has somehow spent as much money as any other similar city and yet generally ignored the primary job of significant street maintenance?
How is it that civic cheerleaders in Wichita Falls can look voters in the eye and actually claim that tearing down taxpaying business locations and building new government facilities on top of such will create a net economic benefit? Who believes a new city hall causes businesses to choose one city over another?
In Lubbock voters are essentially being told that it makes economic sense to tear down a house in a good neighborhood worth a $100,000 just because a new roof, paint, and some repairs would cost $15,000. That's a net loss of $85,000 plus the value of the lot! Scale it up to the city's auditorium-coliseum complex and the net loss is at least eighty-five million dollars to taxpayers.
The absurdity so often observed in Washington, DC starts with those we elect in our own backyard.