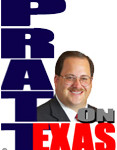 The Texas House passed Representative Dennis Bonnen's bill, HB32, on property tax administration and reform. Bonnen is Straus' chairman of Ways and Means and while his HB32 does some very good things, it is so timid that it doesn't approach anything that can honestly be called meaningful reform.
The good of the bill is that it changes the terminology for the revenue-neutral "effective rate" to the "no-new-revenue" tax rate. It does the same to the maintenance and operations, or M&O, tax rate making it the "no-new-revenue maintenance and operations rate."
Based on the ignorance and unconcern I've experienced from members of the media, I would say that this terminology change might improve truthfulness in reporting but it's not assured.
It would have been better had the change focused more on the taxpayer than on the taxing entity calling it the no-tax-increase rate. Revenue is how the government sees the figure, outgo, a tax is how the one paying it sees it.
HB32 has some important structural changes for appraisal boards, taxpayer protest procedures, and taxpayer notifications.
Many of the most important board changes apply only to counties of a million population and more. Many other changes apply only to counties of 120,000 or more.
Bonnen's HB32 is fine but only as far as it goes.  It does nothing to address the rapid growth of the local property tax burden and does nothing to put more control in the hands of Texas taxpayers.