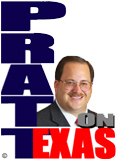 Many of you face local elections on May 5th for which early voting is underway.
Among the things I have noticed this election cycle is an effort, at the local level which more mirrors the Left at the national level, to broom aside rational discussion and encourage emotional non-thinking.
In Lubbock's vote on abandoning its municipal auditorium and coliseum complex the first actual argument delivered to me personally and then across the media by political leaders was one of pure emotion saying that we need to get over our sentimental feelings about the facilities as if sentiment, not the usefulness and financial value of the facilities is all that is driving any opposition to their grand scheme.
In Wichita Falls there is an argument going around that if citizens do not approve more than a hundred million dollars of long term debt, those people are against their city moving forward, whatever that means. It is pure emotion and devoid of evidence and data demonstrating need of certain facilities and justifying claims of how building new civic buildings will lead to net economic gains which will be greater than the actual costs to taxpayers.
In Abilene you have the huge push by the liberals and civic cheerleader crowd to prevent re-election of a city councilman who has done nothing other than what he promised the voters who elected him he would do.
I have read no argument or objection to Councilman Kreitler other than the emotional ranging from he is not part of the right social crowd to the most shallow reason of some disliking his personality. No argument has been made on what votes he has taken that are wrong other than saying it was wrong for him to push to give citizens a vote on whether or not they approve of a new street maintenance tax upon them; to all but elitists that is a positive not a negative.
Voters should demand respectful cogent argument and punish those who refuse to deliver such as anything else is disrespect of those voters.