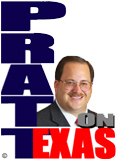 As party primary races heat up considerably across Texas as the early voting period nears, there are a few happenings in races that are top-of-mind at the moment.
House District 60 race:
First, the challenge to Representative Mike Lang in House District 60 from Granbury ISD school chief Jim Largent strikes me as iconic of the panic in which the big-government liberal Republicans engage when trying to take out a conservative like Mike Lang.
It's clear from his own words that Mr. Largent is not a conservative and is not even a moderate Republican. He sends his political thoughts to Granbury ISD school employees through official district systems and pontificates as a liberal Democrat on issues such as gun rights, criticizing the Secretary of Education for respecting the Second Amendment, and offers up odd theories like Bill Clinton did that "talk radio" could be to blame for a mass shooting.
Worse, Largent based his entire campaign on the lie that Representative Lang wouldn't listen to him or meet with him during the last legislative session. Largent told various versions of that lie to all who would listen only to have his own emails, sent to school staff during the session, prove such was a lie.
Jim Largent is about the level of person I'd expect modern Texas Democrats to recruit and run. If the Joe Straus crowd did so, it shows they are like Texas Democrats in more than just legislative policy.
Senate District 30 race:
Another item I find pitiful is the News Channel 6 story in Wichita Falls that longtime state Senator Craig Estes refuses to defend his long record in a televised debate before his hometown voters.
That only Representative Pat Fallon, Estes' main challenger, would appear in debate on Estes' hometown TV station says much bad about Estes and the other challenger and much good about Pat Fallon.
What is Estes' and the other guy from Nacona hiding that they're afraid to go before the cameras?