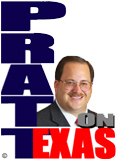 In a story titled "Austin Lobby backs Straus 'priority' members" by Kenric Ward of the Texas Monitor, we find it reported, with evidence, that several non-conservative West Texas state reps are being backed heavily by the Austin professional lobby, the Texas Swamp if you will.
Canadian's Ken King, Amarillo's Four Price, and San Angelo's Drew Darby, all three known around the state as liberal Republicans, are on the top ten list of Austin Lobby PAC's money list.
Mark Jones, political science professor at Rice University's Baker Institute, in the story says that the "traditional Austin Lobby" is backing reps with "strong ties" to Team Straus this time around. That would be liberal outgoing Speaker of the House Joe Straus and Ken King, Four Price, and Drew Darby are three state reps who share Straus' brand of liberal republicanism.

That begs this question: Why is Ken King, especially, running advert after advert claiming to be a conservative when the whole of the Austin knows damned well he is an active enemy of conservatives?
The answer is most sad. It is because Ken King knows that little to no local media members actually know what goes on in Austin and the few who might aren't likely to tell on him because they are also not conservatives.
The best think HD88 voters can do for Texas is send Ken King, big hat and all, back to Canadian without a state representative title.