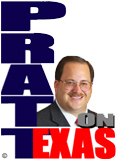 About that major federal tax reform passed by Congress, I like what Texas Representative Kevin Brady was reported to say about it: "In Washington, Democrats and the media sneer at that amount," Brady told Texas reporters. "But for hard-working families in Texas, $2,000 more in their pocketbook each year is really important."
"Brady and other Republicans, however, have focused on the here and now. They point out that a typical family of four earning the median income of $73,000 will receive a tax cut next year of $2,058. With a doubling of the child tax credit, a single mom with one kid making $41,000 will see a tax cut of $1,304," reported the Houston Chronicle.
Liberal Lloyd Doggett of Austin was consistently furious about the bill and no Democrats voted for it. Doggett and Dems think all you earn is actually public property and you have a right to enjoy only that which they, the ruling class, let you keep. A curse upon them.
The major rise from $6,350 to $12,000 for individuals and from $12,700 to $24,000 for couples of the personal exemption will mean millions of us will not have to bother with itemizing deductions. Also, the rates in all brackets are now lower.
The huge reduction in business income taxes puts our country back in line with the industrialized world and will be fuel to grow our economy making a mockery of the Dems, who just a few years ago were telling us we would never see big growth again in the modern world. They've already been proven wrong with growth of three percent and I bet we see growth at even higher rates.