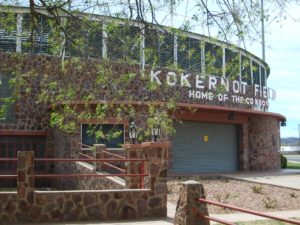 Kokernot Field has been called "The Best Little Ballpark in Texas (or Anywhere Else)" by Sports Illustrated and a Texas-treasure by me. It is a must visit in the beautiful mountains of West Texas any time one is near Alpine.
While broadcasting from Alpine inside The Saddle Club on Monday, 27 March 2017, I had the great pleasure to have both Carol Lewis and Kristin Lacy Cavness on the show to talk about the famed, historic ballpark.
Audio of the interview is below.
Here are some photos I took way back in 2009 of Kokernot Field:
http://alpine.pecosleague.com/