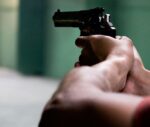 According to El Paso police, and reported by KVIA, Bruce Wayne Murphy, 29, forced his way into a house in northeast El Paso just before 9 a.m. last Thursday.
Three people were inside the home along with a dog and according to those people, the invader, Murphy fired a weapon and injured the dog. At that point resident Sean Patrick Suniga, 37, drew his own handgun and fired at Murphy.
The El Paso Police Department reported that Murphy was found at a street intersection yelling for assistance about an hour after the home invasion and shooting. He was taken to hospital and will be charged with attempted burglary of a habitation.
All the better for El Paso County and, all the better for Texas.