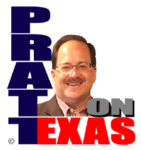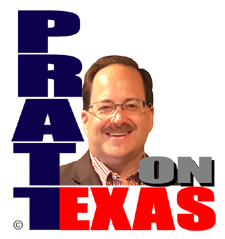 The news of Texas covered today includes:
Our Lone Star story of the day: Texas Tech, now proven in the pages of the Wall Street Journal, is using Leftist "Diversity, Equity, and Inclusion" political litmus tests in employment decisions.
National Association Scholars' John Sailer, using open-records obtained documents, has now demonstrated that Texas Tech is using D.E.I. adherence and promotion in the judging of pure sciences faculty.
System Chancellor Mitchell and TTU President Schovanec should be removed from their positions if they do not eliminate this and similar cancers from Texas Tech – not a wink and a nod job but a true elimination of such. For too long they have told political and other leaders not to worry, that they are keeping this type of thing under control at Tech when now we know such is not true. (Which is obvious before when they built a black-student-only student union building reestablishing a form of segregation on the public campus.)
Texas Tech has put out a statement today reading:
February 07, 2023 Statement
Texas Tech University's faculty hiring practices will always emphasize disciplinary excellence and the ability of candidates to support our priorities in student success, impactful scholarship, and community engagement.
Recently, we learned of a department that required a diversity, equity, and inclusion statement in addition to the usual applicant materials as part of a faculty search. We immediately withdrew this practice and initiated a review of hiring procedures across all colleges and departments. We will withdraw the use of these statements and evaluation rubrics if identified.
That sounds all well and good except the University actually funds, with our money, the inherently political D.E.I. movement and has pushed such into all parts of the enterprise, see: Texas Tech University Division of Diversity, Equity & Inclusion. Note part of its own description: "We establish our culture through shared practices and traditions, through our artwork and our food, through our words and our actions, through our practices/policies/procedures,…" [Emphasis added.]
We'll know real action has been taken wheb the DDEI and similar programs have been dismantled and sent to the ash heap of history where the programs belong.
Sailer is set to appear on Pratt on Texas later this week to further discuss this great stain on Texas and upon Texas Tech University.
Our Lone Star story of the day is sponsored by Allied Compliance Services providing the best service in DOT, business and personal drug and alcohol testing since 1995.
State Senator Charles Schwertner arrested on misdemeanor DWI charge.
Governor Abbott to deliver latest State of the State Address in 30 years AND will give it from San Marcos instead of the Capitol – sounds sort of Lefty to me. And what's the deal with a government function being handed to one media company? Was this put out for competitive bidding?
RIP: Lt. General Bernhard T. Mittemeyer M.D. 
And, other news of Texas.
Listen on the radio, or station stream, at 5pm Central. Click for our radio and streaming affiliates, or hear the podcast of the show after 6pm Central here.