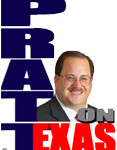 The news of Texas covered today includes:
The Texas energy blame game shapes up predictably. Democrats want more regulation and others want to blame the regulators we already have.
Oil and gas rig count.
A Mars rover update, we landed a pickup-size rover on the red planet this week – from Bob Zimmerman of behindtheblack.com
Our friend Bob Zimmerman comments on the life of Rush Limbaugh.
Listen here: https://www.podomatic.com/podcasts/prattontexas/episodes/2021-02-19T13_55_38-08_00