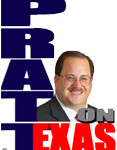 Democrats are particularly exasperated at the moment in the Rio Grande Valley because Trump is expected to appear in Alamo today to highlight 400 miles of border wall being completed.
The Hidalgo County Democratic Party is hopeful "that local leaders can convince Trump to not visit the RGV," according to a report by KVEO. The local Democrat Party is also telling people that the President's visit will spread more COVID.
What you can bet is deeply bothering these Rio Grande Valley Democrats is not WuFlu but that Donald Trump drew what was to them a shocking number of Hispanic votes there. The last thing they need is Trump coming to a deeply Democratic Party machine stronghold and giving a big last chance boost of energy to those willing to buck the system in coming elections.
---
In Austin today, the 87th Regular Session of the legislature convenes beginning its required 140 days of meeting.
The first bill sponsors who should be laughed out of the House are liberal Republican Lyle Larson as well as Democrat Richard Peña Raymond who have both filed bills to have the Legislature meet every year. Both men clearly reject the idea of less governing being better than more, and both are clearly representing the cadre of folks, including many ex-legislators, who make much money by legislators being in session. Sadly that's who many longer serving legislators end up working for – the Austin insider crowd and not us.