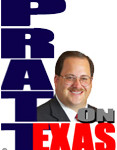 The press in our country has become largely unreliable due to both bias and ignorance and, in the case of the Houston Chronicle, add dilatory to the description.
For many months those who understand our American and Texan traditions of the Rule of Law and deep-rooted opposition to anything approaching dictatorial or despotic rule, have also understood that around the nation governors, mayors, and county officials have used a public health crisis to wield powers longer and beyond boundaries imagined by legislatures.
Now, after months of abuse of our tradition of limited executive power at the state and local levels, the big Houston Chronicle and other Hearst papers in Texas, have awakened to learn that people are upset. "'He's decided he's the king': Gov. Greg Abbott's COVID response leaves lawmakers on sidelines," was the headline of a story by Taylor Goldenstein that appeared after Labor Day, many months after Abbott should have called a special session of the Texas legislature to allow our representatives to debate and set policy for such a wide-reaching event as the WuFlu pandemic (overblown or not as an emergency.)
In dilatory fashion, the Hearst organization has just discovered and reported:
 "Republican Gov. Greg Abbott is one of just three governors nationwide who have had unilateral control over their state's coronavirus response while lawmakers sit on the sidelines.
"Legislatures in three states, including Texas, haven't met since the pandemic began in March — or at all in 2020. And there is little chance that Abbott will call lawmakers back to Austin now, with about 20 weeks left before the next Texas legislative session is scheduled to begin in January."
Any True Texan or proud American should not only chafe at Abbott's action, he should condemn such for what it is: A seizing of power by an executive, taking actions specifically prohibited that executive by the state constitution, and then ensuring the power is preserved by refusing to call the legislature into session.
Even if all Greg Abbott has done is good, which it isn't, it is still a body of action that deserves condemnation.