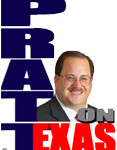 The for Lubbock County Commissioner, Precinct 1 is for the seat long held by the All Hat and No Cattle commissioner who had voted on tax rates annually for a decade and a half but who ridiculously and ignorantly claimed that adopting the Effective Tax Rate was passing a tax increase.
Voters in Lubbock County put three new Republicans on the Commissioners Court last election hoping to end out-of-control spending which has depleted the county's reserves. Sadly voters were hoodwinked and only came away with two new votes in the conservative direction which kept the big-spenders in a 3-vote majority. The county judge, who ran as a conservative, immediately after taking office turned 180-degrees from his campaign rhetoric and adopted a bureaucracy-building and big-spending path.
Lubbock County's books, and other things, are a mess with conservative commissioners Jason Corley and Chad Seay having a hard time even knowing if the documents they are given are correct.
At this moment in time, Lubbock County and its two conservative commissioners, need Lee Ann Dumbauld on the court. Lee Ann Dumbauld is unmatched in her expertise on government finance, budgeting, and transparency.
Dumbauld has been helping conservative leaders behind the scenes for several years by running numbers and pointing out bull-bleep coming from local governments.
If Lubbock doesn't have Lee Ann Dumbauld on the Commissioners Court, conservatives might indeed get three votes but the county judge will then still control the information and effectively run things despite the accomplishment.