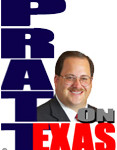 A column at the Capitol gossip site Quorum Report was headlined: "With a year left in his tenure, Speaker Bonnen ramps up retribution for Republicans who withdrew support amid scandal."
Folks, the scandal is real and hasn't gone away and yet it is said Bonnen is punishing those who took notice of his bad actions. That's further evidence of his personal slime ball nature.
Despite the House's General Investigating Committee issuing its report on 20 December in which it concluded that Speaker Bonnen "likely violated" law with his offer of favor to Empower Texas if it would target certain Republican House members in the primary election, we've learned that Dennis Bonnen does not plan to vacate the Speaker's chair, or the tony in-Capitol apartment or other perks of the job, until his full term is up which means the day the next Legislature convenes in January of 2021.
My opinion is that nothing Bonnen did in the meeting he setup with Michael Quinn Sullivan rises to the level of criminality however his actions clearly were bad enough that he committed political mistakes so great that his career in the House is over and he has pledged not to seek re-election to the body.
Able chairman of the investigating committee, Rep. Morgan Meyer, has sent a letter to House members reminding them that committee's job is done in sending members the report. Meyer reminds that it is the House as a whole that is to "determine what, if any, further action should be taken as it relates to violations…"
What about this case that remains deeply disturbing is how unwilling it seems House members are to do what needs doing: Replace Dennis Bonnen with a caretaker speaker to serve until the next session.