Special broadcast today focused upon 2020 elections.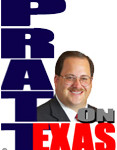 "Democrats could gain control of the Texas House for the first time since 2001," was the headline of a story at the Texas Tribune on Friday the 13th of December. If Democrats did take the House it would be as unlucky as any bad happening for which people blame a Friday the 13th.
There are a dozen Texas House seats Dems flipped their way in the last cycle, and with this being the end of a decade-long redistricting map and the changes in urban-region population demographics, some say as many as thirty seats are "competitive" in the 2020 cycle.
I don't for a moment think thirty seats are competitive but there are enough seats in play that Democrats could, if everything goes their way, win the nine that it would take to have a House majority.
I'm not a Pollyanna on the issue but unless a magnetic figure emerges for the Dems in the presidential or U.S. Senate race in Texas, I doubt they'll enjoy as many upset wins as the press is currently, and will be all next year, rooting for. The in-the-trenches voter excitement for Trump is much stronger in Texas than any counter force from the Leftist Dems.
…
If in Lubbock today, Monday the 16th, join me as I broadcast a special 3-hour show focused upon the 2020 elections. Broadcast will originate from Las Brisas Casual Bistro in Kingsgate North and Senator Perry and other in-person guests will talk about the race to keep the Texas Legislature in GOP hands.
The KFYO-only third hour will feature GOP primary candidates for Lubbock court and commissioner races. Five to eight Monday evening, no charge at all to attend. Las Brisas Casual Bistro in Kingsgate North.