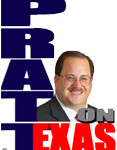 I recommend voting AGAINST propositions 2, 6, and 8.
I will be voting FOR 1, 3, 4, 5, 7, 9, and 10.
A very good recommendation list is available from our friends at Texans for Fiscal Responsibility here as a pdf document.
Also, I wrote a commentary on my support for Proposition 4 back in August, you can find it here.
The reasons for opposing 2, 6, and 8 I have discussed on Pratt on Texas and will not rehash again here. If you have questions about any of these, please call into the show.
Early voting is underway and runs through Friday, 1 November 2019. Election Day is Tuesday, November 5th.