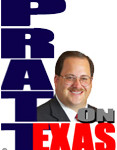 Earlier I told you that former longtime U.S. Representative Pete Sessions of Dallas, who was defeated by a Democrat due to demographic changes in the TX 32nd district over the decade, appears to have decided to launch a campaign to return to Congress but, not in his former district but in the one from which Rep. Bill Flores is retiring, TX17. But, it appears that Sessions didn't even bother to talk to Flores about the possible switch to run.
The Austin American-Statesman reports:
"When retiring U.S. Rep. Bill Flores heard that former Rep. Pete Sessions was thinking about moving to Waco and running to succeed him, Flores surveyed 50 or 60 local leaders to see what they thought so he could advise Sessions.
"Sessions, a fellow Republican who lost his bid for a 12th term last year in a trending blue U.S. House district in the Dallas area, is planning to announce his candidacy Thursday afternoon with a press conference at the McLennan County GOP office in Waco. He never called Flores to tell him he was running or ask him what he thought.
"If he had, he would have gotten an earful.
"The feedback I got was overwhelmingly negative," said Flores, who previously served as chairman of the influential Republican Study Committee in the House.
Pete Sessions is a nice guy and was once a strong and high ranking conservative leader in Washington. But in this latest move, he showed the swamp-swimmer sickness, the arrogance, that infected him over the years and weakened him in his district.
So what's he do now with Flores pouring cold water on the idea moving to Waco to run for TX17? Pete could run and he might win but his own arrogance has made it more difficult.
Update: Former U.S. Rep. Pete Sessions announces campaign for open Bill Flores seat