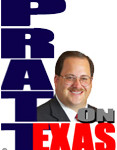 On Friday (26 July 2019) I addressed the big Texas political story in which it is alleged that Texas House Speaker Dennis Bonnen offered to make a peace of sorts with Empower Texans.
The group's longtime leader Michael Quinn Sullivan expressed published a story in which he says that in the post-session meeting with him requested by Speaker Bonnen, that Bonnen offered to see to it that the organization's Texas Scorecard is granted House media credentials next session if Empower Texans' PAC would target a specific list of incumbent Republicans.
Unlike most anyone who has written about this story, I know two of the three actors well. I have worked with Sullivan for a decade or more and he has hosted Pratt on Texas several times. Representative Dustin Burrows, who is my state rep., is alleged to have presented the list of names on behalf of the Speaker at the meeting. Burrows is a friend and serves as chairman of the House GOP Caucus, for now. [Bonnen  denies the list however he says "At no point in our conversation was Sullivan provided with a list of target Members." Right, that's why he left and had Burrows offer up the list. That was at "no point in our conversation" as he would not have been part of it at that point.]
Before securing the votes needed to become Speaker, I spoke with Bonnen via telephone in a very pointed, no-nonsense conversation about his positions and how he would lead the House.
I have covered this issue in detail on Pratt on Texas and cannot but give a few of the most important key points of summation here:
Because of my experience with similar, I find it completely plausible that the offer was made to Sullivan just as he tells it. Similar has happened to me several times.
The list of those to be opposed from Burrows is commendable and demonstrates that Bonnen wants to clear out some of the worst liberal Republicans.
That this blew up on Bonnen and Burrows seems to come from the ever-present problem of politicians thinking people like Sullivan and me are not honest in our convictions and simply see all as just another deal to be made.
That the Speaker didn't think through, or past, the inchoate deal he was offering, or what would happen if Sullivan was offended; rejected it, and; made it public, is a sign of inexperience and maybe more a sign of the arrogance of power.