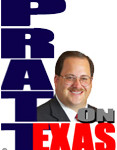 The big news in Texas yesterday was the Texas House of Representatives finally debating Representative Dustin Burrows' House Bill 2, the property tax reform bill, but as I have to write and produce this commentary well before the outcome of that debate is known, you'll have to wait for Pratt on Texas today at 5pm to find out the important details.
On Monday the Texas House passed a bill that simply continued to grease the skids society is sliding downwardly upon. The House passed Democrat Joe Moody's bill, HB 63, which would lower possession of 1 ounce or less of marijuana from a Class B to a Class C misdemeanor, putting such at the same level as a traffic ticket.
I've heard it all before so save the emails as I fully know many will disagree with me, and that is your right, but I found it appalling that the House moved us in this direction. It is all part of a campaign to further normalize the worst of human behaviors and we've seen the results such brings across a wide spectrum of our society.
This brings me to having to thank Senator John Whitmire of Houston, who as chairman of the Senate's Criminal Justice Committee, has blocked the bill telling the Leftwing Texas Observer he didn't see an appetite for the bill in the Senate.
Lieutenant Governor Patrick sent a Twitter message Tuesday saying: "Criminal Justice Chair Whitmire… is right that #HB 63 is dead in the Texas Senate. I join with those House Republicans who oppose this step toward legalization of marijuana."
Headlines* have already appeared that appear to put this all on the shoulders of Dan Patrick who did oppose such, but the person who stopped the bill in the Senate was Democrat John Whitmire and good for him.
* AP: Texas GOP Senate leader looks to block bipartisan pot bill – see how they lie! Democrat Sen. Whitmire "blocked" the bill.