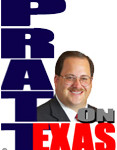 I enjoyed the KRBC story last week out of Abilene about Taylor County Republican Party chairman Winston Ohlhausen sending out a letter, "penned by party member" opposing the downtown hotel issue.
"In the letter, Amanda alleges, "It is NOT the city's place to get involved financially in business. Furthermore, it is not fair to the local business owners who own hotels to have to compete with a city-backed and built downtown hotel," the letter read.
KRBC quoted a Facebook post from one Kevin Halliburton who wrote: "…I want to make it crystal clear that this conservative, Taylor County, resident Republican strongly disagrees with the anti-hotel letter… sent out by a handful of Taylor County Republican Party members on the party letter head yesterday."
I get a kick out Republicans of convenience, as opposed to conservatives of conviction, who love to stamp their feet over the Party standing for, well, what the party stands for.
Halliburton is perfectly free to support government forcing taxpayers to subsidize a hotel developer but, it is he who is out of line in opposing Republican Party officials actively supporting the GOP's official platform positions.
This situation is exactly why we often have local parties that do nothing and are controlled by downtown insiders. They want a party that is useful to them at general election time but does nothing to get in the way of their non-Republican, non-conservative agenda the rest of the year.
Thankfully, Taylor County Republicans now have an active Republican Party and one not afraid to assert the platform principles its members adopted in convention.