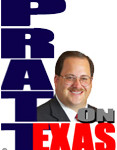 Recently The Texas Civil Rights Project, a Democrat/Leftist front group, put out a report the media touted, claiming that 277,000 Texas voters were faced with such voting problems in the 2018 election that Beto Pancho might have won without such obstacles in the way.
The report is unscrupulous in many ways. For example, they list as one of the biggest barriers to voting a lack of "convenient polling places," according the Austin American-Statesman. Such is a purely subjective term and essentially meaningless. It becomes even more meaningless when you read that their major gripe seems to be that some college students didn't have a polling place close enough on election day to be deemed "convenient" by the Texas Civil Rights Project.
And, it should have been enough for the media to ignore the story, rather than run with it, when it was clear that the hugely inflated number of 277,000 was primarily a baseless estimation that 262,000 college students would have voted had they had an on-site polling location on election day. It's pure fantasy and it ignores the two weeks of early voting too.
The report is yet another underhanded effort from Democrats to make it appear that voting is being suppressed in Texas and, by extension, destroy the population's trust in Democracy.
More underhanded is how they ignore the fact that the only systematic voting oppression in Texas came from Democrats when they controlled the state for over a hundred years.