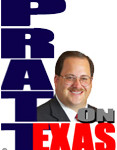 "With the support of Republican colleagues, state Sen. Kirk Watson, D-Austin, on Wednesday filed a bill that would diminish Texas Land Commissioner George P. Bush's role in managing public education funding," reported the Austin American-Statesman.
"Senate Bill 1659, which is co-authored by Sens. Jane Nelson, R-Flower Mound, and Paul Bettencourt, R-Houston, would limit the duties of the School Land Board, a division under the General Land Office, to simply generate money for the State Board of Education and Permanent School Fund from land and mineral rights the land board manages. The land board would not be able to use revenue generated from the land and mineral rights to make its own investments in real estate, infrastructure, energy, minerals and land — something the agency has been able to do since 2001," the story reported.
Likely good policy on its own; it is clearly payback for George P. Bush's terrible leadership as land commissioner, his meddlesome nature, and his abuse of a statute never meant to give him the power he seized over school funding in the way he did it.
P. Bush's entire tenure as land commissioner has been one of bad decisions, abuse of rules, and the creation of convoluted non-transparent ways of pushing through his "reimagining" of the Alamo through which powerful board seats were sold to the highest bidder.[1]
When he gained office, Bush cleaned out the experienced disaster recovery folk to make room for many Bush-family operatives without a job in the Obama years. It was alleged he violated numerous state rules in doing so and then after Hurricane Harvey, Texans suffered by his agency's inept management caused by his purging of those experienced in such.
The best payback to P. Bush would be for Republican Primary voters to awaken to his awful performance and end his political career.